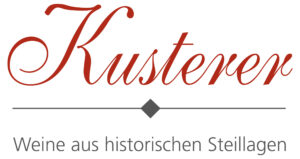 Family winery
Weingut Kusterer
Untere Beutau 44
73728 Esslingen
Opening hours:
Tuesday 4 – 7 p.m.
Gravity Flow Winery
Weingut Kusterer
Gayernweg 55
73733 Esslingen
Opening hours:
Saturday 11-3 p.m.
and by appointment by telephone at: +49 711/357909.
SWR on a treasure hunt in Esslingen:
As part of the broadcast series "Expedition in die Heimat" a team of the SWR visited us. A wonderful film to get to know our winery and our beautiful hometown Esslingen.
>You can watch the contribution here.
The Winery
Our winery is situated in the medieval wine centre of the town, in the heart of the Old Town
News
For the latest information about
the winery, events, press releases,
awards.
Our wines
Wines from single sites, Vintage sparkling wine, Esslingen Martini wine®, Complete range